Disclaimer & Copyright Notices; Optimized for the MS Internet Explorer
Shalom Murti Mandaville
Updated: May 13, 2020


The Challenge of Change, Nova Scotia Economic Strategy, Voluntary Planning, March 1991, and
---
Contents:
---
My experience/interests fall into three broad categories:
---
Free Enterprise

My ancestral background/tradition from Anakapalle, India is `trade and commerce'.

When I was an engineering student in Andhra Pradesh years ago, I was one of the earliest members of a lobby establishment in India known as the Forum of Free Enterprise.

In a nutshell, I have worked actively in the construction and land development industry in Canada for approximately two decades. Following that, I carried out scientific research in freshwater since the late 1980's. Since mid-to-late 2006, I have been involved in human relations, in addition to my volunteer activities.
---
Applied Limnology/Professional Lake Management


A significant interest and specialty of mine are in Applied Limnology, i.e., the practical applications of the science of freshwaters and Lake Management.

I spearhead the Soil & Water Conservation Society of Metro Halifax (SWCSMH), a volunteer society, nevertheless a scientific research group. We have members/associates not only from the Halifax Regional Municipality (HRM), Nova Scotia, Canada, but also a few leading scientists from Ontario and select states USA. Our objectives; snapshot summary of our accomplishments; and select compliments and acknowledgements received.

---
Human relations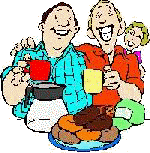 I have extensive interests, mostly dealing with human relations, public communication, and working in partnership with all entities in the scientific/technical domain within the time constraints.

I just love liaison with people of all background.

---
Select memberships and general interests
---
Miscellaneous links
---
3D Animated Flags--By 3DFlags.com

I salute the Chebucto Community Net (CCN) of Halifax, Nova Scotia, Canada for hosting the web site, and I applaud its volunteers for their devotion in making `CCN' the best community net in the world
---